Zaragoza, October 11th 2023
Teltronic is participating in the eighth edition of the MCX plugtests, organised by ETSI with the support of the European Commission (EC), the European Free Trade Association (EFTA), the Critical Communications Association (TCCA), the European Utilities Telecom Council (EUTC) and the Union Internationale des Chemins de fer (UIC), which is being held at the University of Malaga (Spain) from 9 to 13 October 2023.
As in previous editions, the objective is to validate the interoperability of a variety of implementations using different scenarios based on 3GPP Mission Critical Services. The MCX Plugtests event will also test, flexible group communications, MCData IP Connectivity and complex emergency call handling, among many others.
In this edition, besides mission critical features which have been tested in past events over 4G network, be extended to test Mission Critical Services over 5G test network.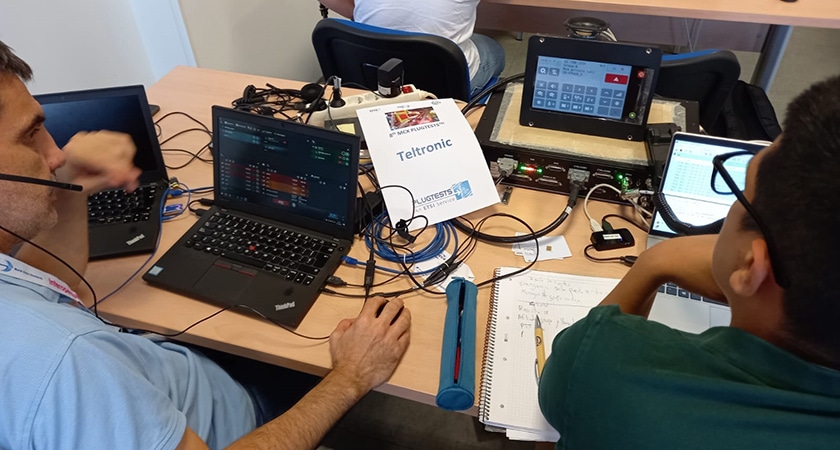 Teltronic is participating with an eNodeB in Band 68, highly demanded for public safety to perform different tests, as well as with its LTE EPC to test the capacity to support both unicast and multicast streams, which allows a better spectral efficiency in radio communications with multiple users involved. In addition, Teltronic is also participating with its MCX dispatcher, CeCoCo, participating in typical MCX and FRMCS scenarios.
Finally, as the event also includes in its programme railway-oriented tests, Teltronic has brought to Malaga its RTP-800 on-board terminal, taking part in both LTE and 5G test cases, as required by the FRMCS standard.
OBSERVER DEMOS
In this edition, Teltronic joins the Observer Demo, in which it will show observers (entities and companies of the sector) its capabilities, highlighting both unicast and multicast test cases and operations typical of the railway sector such as callback request and first to answer call, among others.
In parallel to the tests, the organisation has planned observer round tables to review and discuss progress in the deployment and challenges of testing mission-critical services for public safety and transport..