The fourth industrial revolution, also known as Industry 4.0, combines technologies such as robotics, artificial intelligence, Internet of Things, automation, data analytics (Big Data), Edge computing, and real-time processing of information in order to optimize production processes and reduce costs.
New communication networks
As an integrating element of all these new technologies, it is important to highlight the 5G communications standard, which is an abbreviation that refers to the fifth generation of mobile networks. It represents substantial improvements in three main benchmarks:
New applications demand new network infrastructure requirements, such as the need to communicate in real time (Low latency), transmission of large volumes of data, both in sending (Uplink) and receiving (Downlink) and the communication of an endless number of sensors (IoT) which, in combination with technologies such as "Edge computing", Big data and artificial intelligence (AI), will allow for the implementation of different use cases, such as remote control of machinery, unmanned autonomous vehicles, predictive maintenance in real time, etc.
The technologies that are currently in use do not offer the performance that this ecosystem of applications needs, in terms of latency, Downlink (DL Speed) and Uplink (UL Speed), so it is necessary to use private 4G and 5G networks.
Industry 4.0 makes everything in the supply chain "smart", from smart manufacturing to smart storage and logistics, including management and the business model itself. The application of new technologies that are associated with the Industry 4.0 concept allows companies to better control and understand all the aspects of their operations, and make use of real-time data to increase productivity, improve processes and the quality of products, and drive growth.
When production lines are based on private 5G systems that guarantee safety, they can be more flexible, as they have the benefits of a wireless system compared to traditional wiring.
In addition, machines can have a longer useful life due to sensors and predictive maintenance. The performance of processes can also improve via automation, the use of collaborative robots or self-driving vehicles.
PRIVATE 4G AND 5G SYSTEMS
The initiatives for releasing the spectrum in different countries, in the 3.5GHz, 3.7GHz, 1800MHz, 2300MHz, or 2600MHz frequency spectrum, are opening up clear options for the industrial sector to get the benefits afforded by a private broadband network: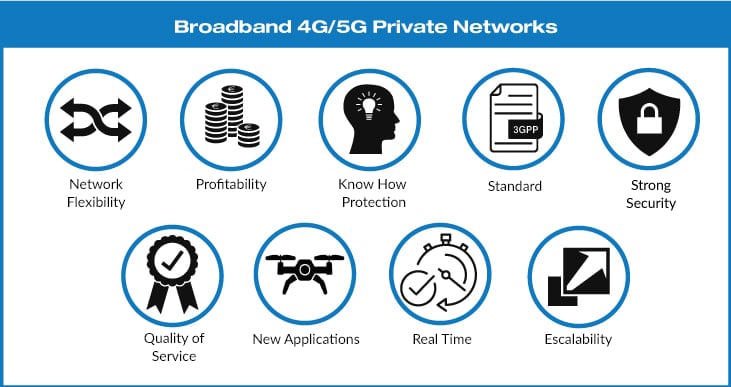 Private 4G and 5G networks natively provide relevant advantages compared to other technologies that are currently in use:
Mobility, allowing for wireless operation;
High levels of quality of service (QoS).
Use of licensed bands, which avoids being exposed to interference and minimizes the risk of cyberattacks
Optimal design in using lower frequencies, and improving investment and maintenance by needing fewer sites.
Standard, completely open technology, which translates into a free competition market with a greater number of providers, promoting the development and incorporation of future applications within a clear and innovative frame of work.
These intrinsic benefits of private networks, in addition to the new abilities that 5G technology offers in terms of higher data transmission speeds, lower latency and better capacity of connected devices, make these solutions one of the keys to tackling the digitalization objectives of Industry 4.0.
Teltronic has a complete portfolio of 4G and 5G solutions which, together with our extensive experience in the design and deployment of private critical communication systems, will surely contribute to the achievement of these objectives.