• Aligned with NG112 and NG9-1-1 initiatives, the company has presented a new version of its IC&C solution that has been especially designed for big Command & Control rooms where several communications networks have to be integrated.
• The CeCoCo version for Transport sector, CeCoTRANS presents a graphic interface specifically adapted to rail operation, allowing the operator to locate the train on a dynamic map representing the track, the depots and the passenger stations
• It consists of a computer system that centralizes and integrates several voice, data and multimedia communication services coming from different types of networks.
Berlin, September, 19th 2018.
Teltronic is taking part at Innotrans, the most important trade fair for Transport sector that is being held in Berlin and where the Spanish company has presented the new evolution of its Integrated Command & Control for transportation, CeCoTrans. It's a tool that has been especially designed for critical contexts where system reliability, flexibility and adaptability to customer's operational environment is essential.
The new version of IC&C consists of a computer system that integrates several voice, data and multimedia communications among different network (digital radio systems such as TETRA, DMR or LTE, analogue radio, telephony, cellular mobile systems, etc.), thus enabling swift and effective communications and information management by means of one or several operator workstations.
In addition, the system can be fully customized to meet the needs of each project. This is possible thanks to its modular and scalable structure, allowing to configure and gradually expand the system by means of new software licenses and operator workstations.
Furthermore, it presents an active-active redundancy approach both in hardware and services (calls, messages, contacts, alarms, and recordings), and offers an intuitive working desk that has been specifically adapted to the operation of metros, railways, light trains or buses.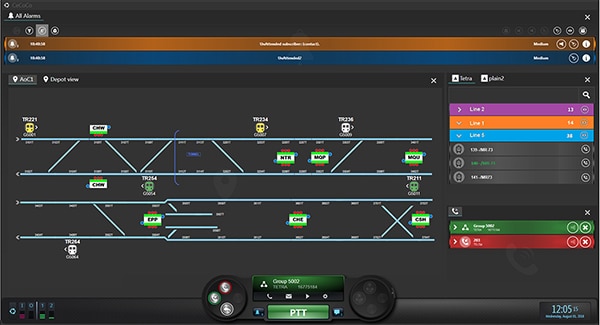 Functionally, it supports a wide range of standard functions: individual call, group call, sending and reception of messages, multi-conference, multi-select, broadcasting, listen-in, mute, terminal localization, supervision of operators, etc., and on the other side, thanks to the transport module RDM (Rail Dispatcher Module), permits an easy interaction with other sub-systems such as Public Address systems, Intercoms, Passenger Information Systems, Video surveillance or rail signalling.
Finally, the new release has stressed the operator user interface through the new Dynamic Map. It is a panel that shows a schematic view of the transportation line, including trackside, stations, roads or other elements like depots, configuring the line profile. The representation can be complete or be split in smaller parts in separated panels visible to an operator (area of control).
Teltronic at Innotrans
Teltronic is present at Innotrans, where the company is showing its solutions for transportation segment, both mass transit and cargo, including TETRA+LTE convergent solutions or the portfolio of cybersecurity licenses and services designed to protect critical infrastructures, among others.
Teltronic displays its communication systems for trams, subways and railways, that offer a wide range of voice and data applications, guaranteeing communications among all the involved agents, and allowing the managing of critical data, including alarms, location and any other relevant information in case of emergency situation; vital data by means of signaling applications for train control, and Non vital data, like on board video and multimedia applications.