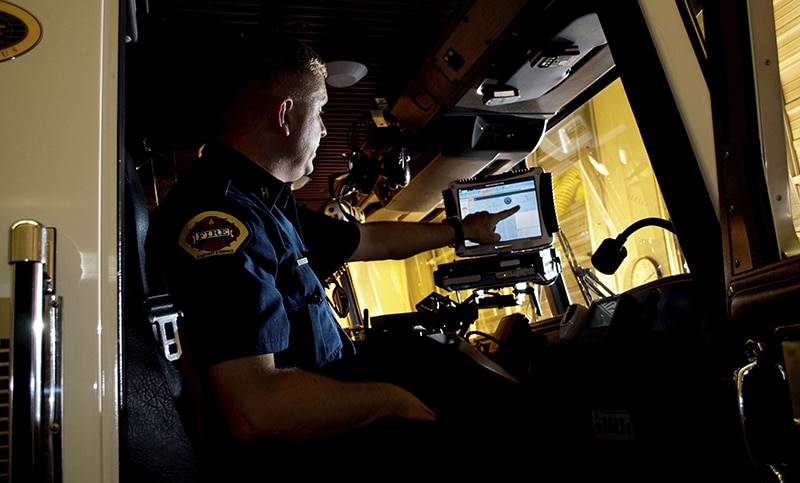 Public safety and emergency response agencies have very high demands on their communications: they need them to be secure and reliable, they need high audio quality so that instructions are received clearly and accurately, they need to be available at all times and coverage needs to be guaranteed anywhere in their area of operation. It is also important that the equipment is durable in the most hostile environments and usage situations, and it is of great value that their systems are capable of integrating context information to assist the decision making process in command and control centres.
With the progressive introduction of broadband technologies in the professional radio scope, the questions are: How they can meet these requirements? What they can bring to users?
The analysis starts from how the needs of public safety and emergency response users are currently met. Today, the key need for such agencies is voice services, which are fundamental to their operation, and short data services, which enable the transmission of accurate and concise information, such as GPS position data. Both of these services are available through narrowband technologies such as TETRA.
These short data services are beginning to expand further, with the need for access to information for which broadband is not required, but for which higher capacity is needed. This is the case, for example, of accessing to databases and e-mail, or sending and receiving image files, services which are also supported by TETRA technology.
And although at the present time, access to video in real time, or to context information (maps, points of interest, building plans, etc.) are not a priority need for the operation of this kind of agencies, these services are becoming more and more in demand, both in the field and integrated with dispatch and control centre solutions.
Broadband capabilities are required in order to meet these new needs. "In the end, all this is nothing more than a reflection of the evolution of our connected world; just as any citizen has access to different sources of information through their smartphone, public safety users also need and must be connected", explains Raquel Frisa, senior product area manager at Teltronic.
Thus, the future of public safety will require the contribution of broadband technologies to provide services such as real-time video surveillance. This is necessarily linked to certain applications related to its analysis (detection and identification of number plates, facial analysis, video surveillance from drones and unmanned equipment) as well as to the data intelligence necessary to analyse the information that can be obtained through elements such as sensors or personal devices.
"There is an ecosystem of applications and opportunities to be explored that are beginning to take shape thanks to various proof-of-concept scenarios, but which need to be implemented and secured with high-quality broadband networks capable of guaranteeing the required levels of service and availability so that it can really be used in a real operating environment by Public Safety agencies," says Frisa.
Evolution of the standard
For this to happen, the standardisation of broadband technologies also needs to include service models in its scope. In this sense, the organization responsible for defining the standard for cellular networks, 3GPP, is working on a set of specifications (grouped under the heading of mission critical), which establish the specific characteristics that cellular networks must offer, such as security or authentication, and also define how mission critical services can be provided.
In this line of work, in Release 13, the foundations of this standard began to be laid down, focusing on what is known as MCPTT (Mission Critical Push-to-Talk), and compiling how voice services should comply with mission critical requirements (priority management, group communications, etc.) that until then had not been defined on cellular networks.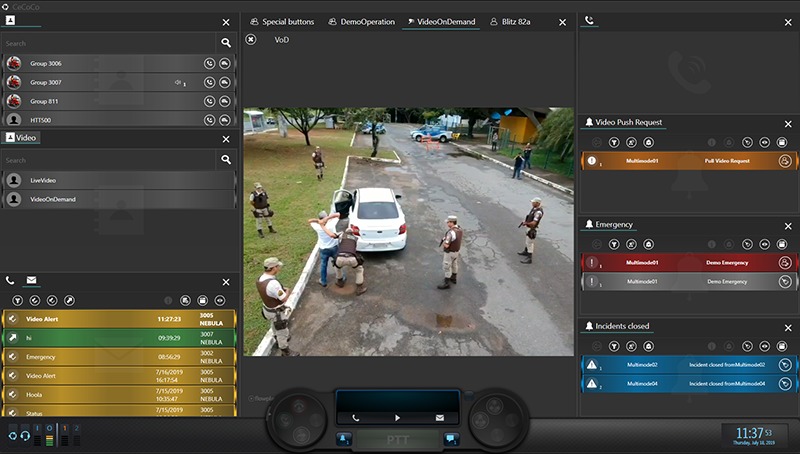 In successive versions, the standard continued to introduce new features and services, incorporating video and data, thus outlining a functionality that serves as a basis for building a new ecosystem of solution providers that truly serve public safety users over 3GPP broadband infrastructures.
At present, work is underway on Release 17, and it can be said that it is well defined how mission-critical voice, data and video services have to be provided, and progress continues on other ancillary but necessary aspects such as the security procedures applied to communications, or the standardisation of conformance tests to ensure real interoperability between manufacturers of infrastructure, terminals and applications, as well as defining how interconnection with narrowband systems currently in operation (such as TETRA) is carried out to ensure a migration process or coexistence in hybrid environments.
"Ensuring interoperability is a key aspect in the development of broadband for this market," says Raquel Frisa. In this sense, the 3GPP has a working group specifically focused on defining these tests, and the ETSI (European Telecommunications Standards Institute) is organising a series of plugtests focused on mission-critical services, whose objective is to lay the foundations for interoperability procedures that are already mature in other technologies.
"This is an essential line of work. Guaranteeing interoperability will not only serve to stimulate the creation of new solutions by manufacturers, but will also be key to having a competitive and open market, which encourage public security agencies to invest in this type of solutions, with the guarantee of being based on open multi-vendor standards", summarises Frisa.
Legislation and spectrum
Also in the field of spectrum regulation, steps are being taken to make public safety and emergency broadband networks with dedicated spectrum a reality in the medium term. For example, in Europe there are three large bands that are the main reference bands in countries that are standardising: band 68, band 28 (both in 700MHz), and band 31.
In Latin America and North America 700 MHz is also the reference, with slots being established in band 28 in Latin America and band 14 in the United States and Canada. Also in Asia, several countries have reserved band 28. In this way, all countries are following the recommendations of the International Telecommunication Union (ITU) and are regulating and reserving these bands for future broadband communication networks for public safety and emergencies.
Towards a new operating model
The emergence of technologies such as augmented reality, the use of drones and artificial intelligence will forever change the way in which security and emergency response agencies carry out their work, once the technological ecosystem that supports them is being configured and the equipment offers greater performance and is also more accessible.
The use of personal cameras, for example, has been a major advance for the work of officers, as they allow the recording of evidence of the police operation. This, combined with LTE technology, also allows it to be transmitted in real time to the control centre from where the operation can be followed simultaneously, but going further, by introducing AI, it's capable of detecting and analysing by itself what is happening around it and alerting of possible risk situations that may go unnoticed by the agent himself.
The combination of images from fixed cameras, drones and even satellites, together with the use of geotechnical sensors, and all of this analysed by artificial intelligence, is already helping emergency response services to identify the areas of greatest risk and provide a more effective response in cases of meteorological disasters, earthquakes or fires.
These are just a few examples, but they are tools that are already beginning to be applied in public safety and emergency response scenarios, and are demonstrating that new technologies can make a decisive contribution to improving the work of these agencies.