Zaragoza, May 24th 2022
Teltronic participated in the 2nd FRMCS (Future Railway Mobile Communication System) Plugtests event, which took place as a remote-only event from 16th to 20th May 2022 and that was arranged by the ETSI, with the support of the European Commission (EC), the European Free Trade Association (EFTA), the Critical Communications Association (TCCA) and the Union Internationale des Chemins de fer (UIC).
These sessions, which are part of the MCX Plugtests programme, are aimed at verifying interoperability and mission critical services harmonisation, both critical challenges for the successful deployment and operation of mobile broadband-based communication systems.
Thus, Teltronic was able to validate the interoperability of a variety of implementations, testing different use cases and functionalities based on the 3GPP Mission Critical Services framework with focus on the demanding requirements of the railway sector.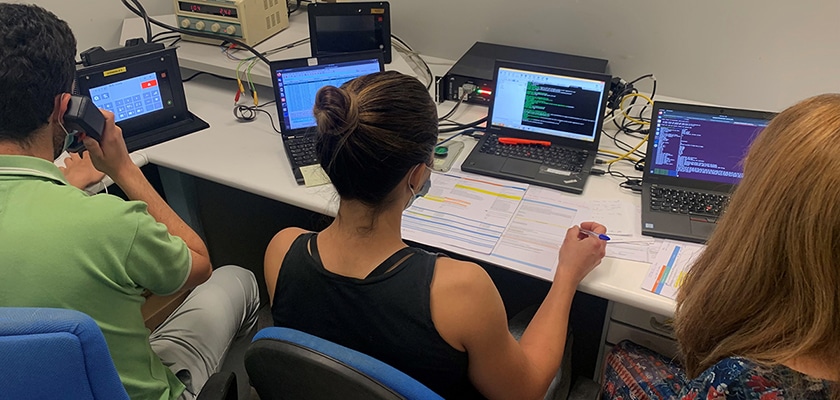 Specifically, Teltronic checked FRMCS features on its on-board equipment RTP-800 as User Equipment, and the MCX Client for the RTP-800 and the Control Centre solution, NG CeCoCo, both designed to provide cutting-edge broadband services.
Teltronic is very proud of taking part in this event to test thoroughly the different entities and interfaces that constitute an FRMCS mobile communication system for railways. It allows us to evaluate the suitability of our developments and attribute us a leading role in the innovation of the future railway broadband communication services.
Teltronic will also take place at the 7th ETSI MCX Plugtests, which will take place in Malaga, Spain, from 7-11 November. The goal of the event is to validate the interoperability of a variety of implementations using different scenarios based on mission-critical services (MCX) in Release-17 of the Third Generation Partnership Project (3GPP) standards, and Future Railway Mobile Communication System (FRMCS) capabilities.