Vienna, 22nd June 2022
The candidacy "EDESUR, towards a new telemetry paradigm for the electricity sector thanks to TETRA" was chosen as the winner in the category "Best Use of Critical Communications in Utilities" at the International Critical Communications Awards, the most prestigious recognition in the sector at a global level, and whose award ceremony took place in Vienna, within the framework of the CCW.
The project developed for EDESUR,  a private electricity distribution company in Argentina (subsidiary of the Enel group), makes the radio system to become an extremely valuable asset, as it enables the company to detect any incident or outage in the distribution network in practically real time and, consequently, improve its management and operation.
Thus, knowing the status of the more than 8,000 RTUs (Remote Terminal Units) which remotely monitor and control the different substations would take more than two hours in a SCADA system developed on TETRA. However, Teltronic's TETRA infrastructure allows this operation to take just 10 seconds, establishing a new operating model for electricity production and distribution companies.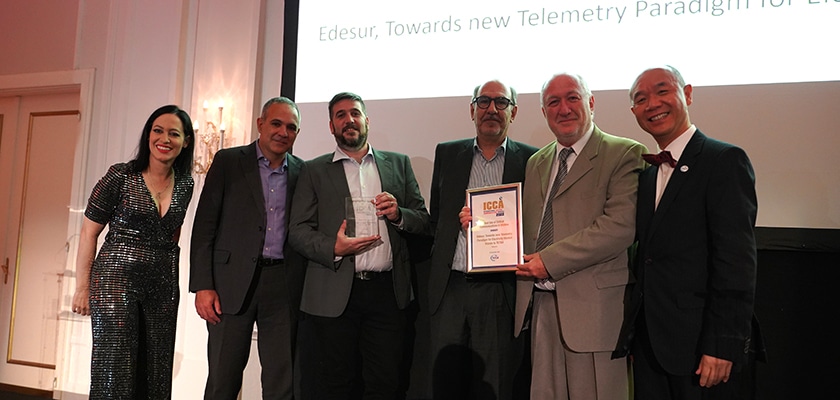 This is possible thanks to the SDM (Synchronous Data Manager) functionality, an optimization algorithm developed and patented by Teltronic, (ES2353886-B1), which considerably improves the data transmission of the TETRA standard, through a series of mechanisms aimed at maximising the bandwidth available in the system by eliminating air collisions.
Finalist in three other categories
In addition to the award, the RTP-800, the first on-board radio on the market to incorporate MCX functionalities and which has already shown its full potential in its first implementations, was a finalist in the "Best MCX Device of the Year" category.
In the category of Best Use of Critical Communications in Public Safety, Teltronic had two finalist projects. On the one hand, the TETRA network of RESCAN (Canary Islands), for the excellent service it provided during the volcanic eruption on the island of La Palma and, on the other hand, in co-candidacy with our partner in Mexico, Jomtel, the modernisation and upgrade of the Ciudad Juárez Immediate Response Centre.