Aligned with NG112 and NG9-1-1 initiatives, the company has presented a new version of its IC&C solution that has been especially designed for big Command & Control rooms where several communications networks have to be integrated.
CeCoCo consists of a computer system that centralizes and integrates several voice, data and multimedia communication services coming from different types of networks.
The graphic user interface is enhanced making it touchscreen and even more friendly and configurable to meet operation needs of each customer
Zaragoza, June 28th, 2018.
Teltronic has presented the new version of its Integrated Command & Control solution, CeCoCo. It is the result of years of experience, research and development of products for the professional communications market, and it offers all features and functions required by the professional systems in big control centres.
In this way, the Spanish company meets the requirements drawn by NG112 (Next Generation Emergency Services in Europe) and NG9-1-1 (North America) initiatives which are focused in improving both interoperability between emergency services and communication between citizens and emergency services, enabling them to reach an authority by calls using VoIP, instant messaging, real-time text, pictures or videos.
Therefore, this tool is suitable for Command & Control rooms for state security forces, assistance centres (emergencies, supplies, services) and other segments like transportation where several communications networks have to be integrated. The efforts have been focused in the creation of a solution that allows to increase system reliability, flexibility and adaptability, reflecting the wide expertise of the company in this type of developments.
In this way, the new version of IC&C consists of a computer system that integrates several voice, data and multimedia communications among different network (digital radio systems, analogic radio, telephone, cellular etc.), thus enabling swift and effective communications and information management in each situation by means of one or several operator workstations.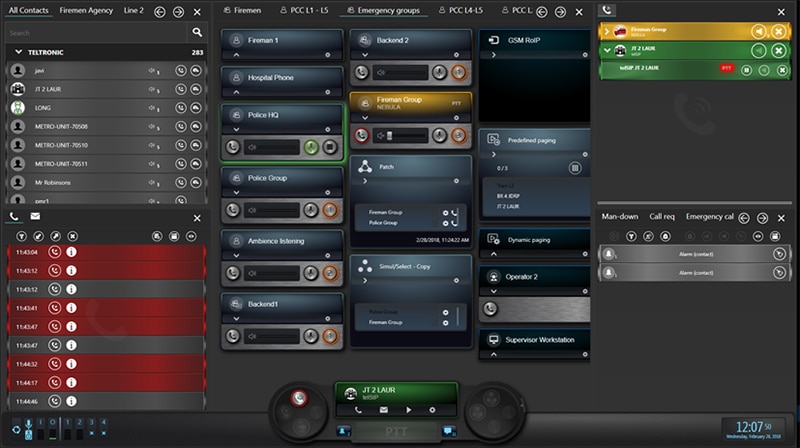 In addition, the system can be fully customized to meet the needs of each customer and environment. This is possible thanks to its modular and scalable structure, allowing to configurate and gradually expand the system by means of new software licenses and operator workstations.
One of the main features of this release is that it is open, because has been designed with widely marketed components and standard protocols. Its internal structure is native SIP solution, becoming a key factor of its high capacity to commute communications and allowing the deployment of systems with a large number of operator workstations which generate high traffic levels of simultaneous calls an multiconferences.
Furthermore, the system is ready to provide 24x7x365 operation, presents an active-active redundancy approach both in hardware and services (calls, messages, contacts, alarms, and recordings), is interoperable and can be integrated with different technologies, such as GSM, MPT-1327, TETRA, DMR, P25 or LTE.
Marta Fontecha, Product Management Director at Teltronic, says: "The Limitation in the processing capacity, the problems when managing resources in a multi-agency environment, the need for customization or the excessive complexity involved in the use of an increasing number of different communication systems can cause important limitations in emergency and dispatching centres performance; Teltronic's new solution overcomes these restrictions thanks to a distributed virtualized core system in one or several locations that support all the intelligence".
This new version has also improved the graphic interface for operators, more friendly and configurable, with simplified controls, touchscreen and the possibility of modifying colours or icons, enhancing the user experience. It creates a free-seating environment where operators are not restricted to a specific workstation, and workspace is configured based on the user profile. Functionally, it supports a wide range of module functions: individual call, group call, sending and reception of messages, multi-conference, multi-select, broadcasting, listen-in, mute, terminal localization, supervision of operators, etc.
To all this, the capacity of connection to more than one network infrastructure is added, so that from the same control centre it is possible, for example, to manage several agencies (security bodies, medical emergencies, or fire brigades) which are using different networks. This makes the cooperation between them easier. Finally, The new release of the Command and Control solution has also incorporated a set of cybersecurity licences and services to pare down the risk to be affected by the latest vulnerabilities.