The company will set up a demo at its stand where visitors can learn about the capabilities of its solutions and portfolio.
Teltronic will be present in the conference programme with the participation in three sessions, and accumulates four nominations for the International Critical Communications Award.
Zaragoza, 9th May 2023
Teltronic will once again attend Critical Communications World, the major global event for the critical communications industry, which this year will be held from 23-25 May at the Messukeskus Convention and Exhibition Centre in Helsinki.
The company will showcase its private systems on TETRA, 4G and 5G technologies, with proposals for the transport and public safety markets and for the industrial and utilities sectors. As in previous editions, broadband solutions will be the main focus of the company's stand, specially MCX solutions, video transmission and applications for the development of Industry 4.0.
Teltronic will deploy a functional demo on a fully virtualised network with which visitors to the stand will be able to discover the capabilities of its communication solutions and its portfolio, which includes network infrastructure, terminals, personal cameras, on-board equipment and its control centre solution, NG CeCoCo.
In addition, thanks to a virtual reality experience, users will be able to put themselves in the role of a train driver and thus learn about Teltronic's solutions for the transport sector and how they integrate with the different railway subsystems. Also, thanks to an innovative 3D environment, Teltronic will show the different use cases for 4G and 5G technologies.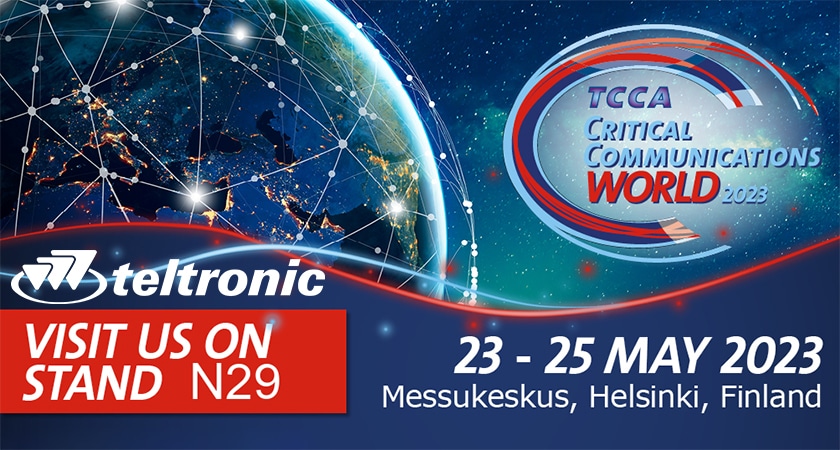 CONFERENCE PROGRAMME
Teltronic will once again have a strong presence in the conference programme of the event. Thus, on 24 May, at 12.00, it will participate in the Panel discussion: "The challenges of spectrum for utilities, transport and other verticals"; and at 14.00, it will give a talk on "Digitalising rail transport: current state of the art".
On the 25th, at 13.45, Teltronic will present its advances in cybersecurity at the panel discussion: "Network security: challenges, solutions and ways of learning and sharing experience".
FOUR ICCA NOMINATIONS
Teltronic has accumulated a total of four nominations for the International Critical Communications Awards, the most prestigious awards in the field of critical communications globally, which will be presented at the CCW.
The onboard equipment RTP-800 is up for MCX Solution of the Year, and our control centre solution, CeCoCo, has been selected as a finalist in the Best Control Centre Room Innovation category, thanks to its MCX Services Integration.
In addition, in the category of Best Use of Critical Communications in Transport, Teltronic is participating with the Delhi-Ghaziabad-Meerut line project, which marks a pioneering milestone with the integration of MCX solutions in such a demanding environment as railway. Finally, the Sierra Gorda (Chile) project is aiming to be chosen as the winner in the category Best Use of Critical Communications in Mining and Oil&Gas.