TELTRONIC introduces a new control console to extend its on-board solution portfolio for the transport market. This EN50155 touchscreen console will control the TELTRONIC on-board radio equipment and will be integrated with the new TELTRONIC CCTV solution.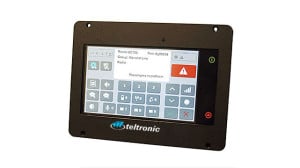 TELTRONIC is launching at Innotrans 2014 its new RCC-3000 control console to manage radio communications in railway environments.
This attractive unit complements the wide range of on-board equipment available within the TELTRONIC transport solution and includes several features to highlight: Compliant with railway regulation EN50155, 8" display, robustness with its IP65 protection degree and highly configurable interface.
One of the purposes of this user interface is controlling the TETRA communication provided by the TELTRONIC RTP-Series on-board equipment. In addition, the RCC-3000 is integrated as well with the TELTRONIC video surveillance solution, allowing the driver to display images coming from the cameras installed in coaches, increasing the security of the passengers and rail operation.
With the launching of the RCC-3000, TELTRONIC extends its range of products to reinforce its current on-board offer for metros, trains, light trains and railways.
[lightbox selector=".lightbox-img" opacity="0.875″ prev_scale="0.75″ prev_opacity="0.75″ next_scale="0.75″ next_opacity="0.75″ orientation="horizontal"]