Zaragoza, June 22nd, 2018
Teltronic has taken part, once more, in the Awards for the Best End-of-Degree Projects, Final Master Projects, Doctoral Theses and Best Academic Pathways in Telecommunication Engineering. These recognitions are organized by the Spanish Official College of Telecommunications Engineers and this year have reached their XXXVIII edition.
The company sponsors "Teltronic Award for Best Master Thesis in Solutions for Critical Communications", a recognition that this year has gone to Gara Quintana, from the University of Las Palmas de Gran Canaria, for her work "Design and implementation of a point-to-point radiocommunications system" ", that has been tutored by Iván Alejandro Pérez and Eugenio Jiménez.
Teltronic's Quality Director, José Luis Val, was responsible for delivering the award, recognizing "the rigor, methodological quality and depth" of the work presented. The awards ceremony took place in the Institute of Engineering of Spain, gathering leading representatives of the academic and business world.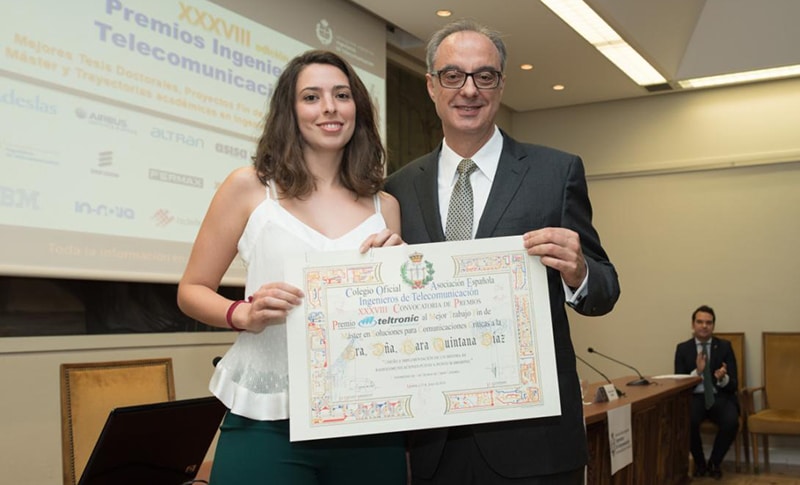 A total of 29 recognitions were awarded, selected by a jury comprised of directors of centers and master directors of the university centers that teach the Master's Degree in Telecommunications Engineering. In total they have had to examine the 115 different proposals submitted from a total of 34 centers.
This edition has also had the support of 20 companies and sponsoring institutions that, like Teltronic, have boosted the initiative of COIT / AEIT to reward talent.