The new radio system will contribute to improve the efficiency of operations
The airport, operational since 2014, is facing an ambitious expansion project and expects to increase both cargo and passenger flights in the coming years
Zaragoza. 3rd, December 2020.
Teltronic has supplied Indra, one of the main global technology and consultancy companies, with a TETRA (TErrestrial Trunked Radio) digital radio communications system at Duqm airport in the Al Wusta region of Oman.
The new system will allow communications among runway, terminal and emergency and security staff, contributing to significantly improve the operations at the airport.
Teltronic has designed a totally integrated and customized solution that meets safety and reliability needs of this sort of airport environment, where there is a high density of users in a limited area, and there are different operational groups, requiring maximum coordination levels.
Teltronic deploys its NEBULA infrastructure, whose components are designed and manufactured in the company's facilities in Zaragoza (Spain). Thus, the company provides a complete solution, including the Switching Control Node (SCN), responsible to provide network intelligence; radio access that ensures coverage to the whole complex, and the Network Management System (NMS) to configure and operate the system.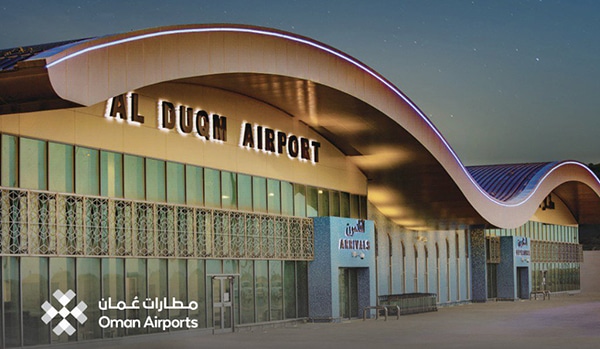 In addition, the solution comprises almost 100 handportable and mobile radios that, in order to reinforce security levels to the maximum, offer end-to-end encryption, guaranteeing the complete privacy of both voice and data communications between the sender and receiver of messages.
"For Teltronic, this project is an opportunity to consolidate our presence in the Middle East, and to work together with one of the world's leading technology and consultancy companies in a strategic alliance that we hope will become stronger and that will allow us to develop new successful projects together in the coming years," explained Teltronic's Transport Business Development Director, Felipe Sanjuán.
DUQM AIRPORT
Duqm Jaaluni Airport (IATA: DQM) began operations in July 2014, although it is currently immersed in an ambitious expansion project that includes the construction of a new terminal. The area has a major refinery and in the coming years it is expected that major mega-projects will be installed in the area, such as an integrated fish processing area or a crude oil storage plant, therefore both passenger and cargo demand will increase remarkably.
About Indra
Indra (www.indracompany.com) is one of the leading global technology and consulting companies and the technology partner for the key operations of its clients' businesses worldwide. It is a leading global provider of proprietary solutions in specific segments of the Transportation and Defense markets, and a leading digital transformation and Information Technology consulting company in Spain and Latin America through its subsidiary Minsait. Its business model is based on an integrated offer of its own products, with an end-to-end approach, high value and with a high component of innovation. At the end of 2019, Indra had revenues of Euro 3,204 million, more than 49,000 employees, local presence in 46 countries and commercial operations in more than 140 countries.