A multi-technology Deployable Base Station supporting two radio access, TETRA and LTE, has been incorporated to TELTRONIC portfolio of professional radio infrastructures. This new dual unit will permit a fast deployment to provide communications in critical and special operations or when the coverage or traffic capacity needs to be improved somewhere.
CCW'15 in Barcelona will be the scenario selected by TELTRONIC to launch the new dual TETRA + LTE Deployable Base Station.
The new product is part of the product family of the TELTRONIC new generation mission critical infrastructure, eNEBULA, which offers TETRA and LTE radio access on a single radio network.
The Deployable Base Station can be quickly deployed anywhere a new coverage area is needed to be set up. As a TETRA base station the DBS features 2 carriers. In dual configuration, the DBS delivers a TETRA carrier plus a LTE eNodeB.
The unit can work as either a stand-alone unit providing all the functionalities and operating as a fully autonomous system, or as a remote site connected to an existing radio netwo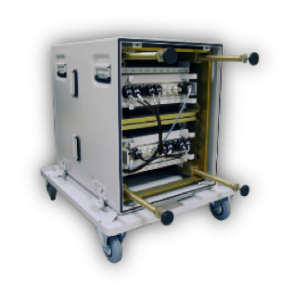 rk.
The DBS allows deploying communications equipment in a fast and effective manner, under the harshest terrain and environmental conditions, being compliant with the most demanding environmental normative.
With the dual TETRA+LTE DBS, TELTRONIC continues extending its offer of tactical solutions for critical markets as Public Safety or Defense. We invite you to visit us to our stand at the CCW 2015 international exhibition (19-21 May, stand A401) to see in live the dual DBS and the rest of TELTRONIC portfolio for mission critical communication solutions.
About TELTRONIC
Backed by over 40 years of experience in the design, manufacturing, and implementation of digital and analog land mobile radio (PMR) projects worldwide on a turnkey basis, TELTRONIC S.A.U. has the experience provided by the more than 400 systems deployed in more than 60 countries. TELTRONIC presents a broad portfolio of critical communication solutions for the transportation, public safety, utilities, and industrial sectors based on TETRA, P25, and LTE technologies. Its portfolio also covers end-user applications and systems for Integrated Command and Control Centers and custom surveillance to these markets.
About TETRA
TETRA (Terrestrial Trunked Radio) is an open standard defined by the European Institute of Standardization (ETSI). The main target of the TETRA standard is to define a set of interfaces, services and functionalities to cover the needs of the traditional PMR professional users, making easy the interoperability between the products designed by all the vendors. TETRA technology defines a digital radio system with privacy and confidentiality, better audio quality and improvements in the data transmission capacity.
[lightbox selector=".lightbox-img" opacity="0.875″ prev_scale="0.75″ prev_opacity="0.75″ next_scale="0.75″ next_opacity="0.75″ orientation="horizontal"]