Teltronic EMS (Electronic Manufacturing Services) enables the company to make the leap into the high value-added electronic subcontracting sector.
With more than 4.000 m2 and more than 100 workers allocated in the manufacturing area, it offers integral solutions, from the design and conceptualization of prototypes to the final verification.
Its SMD lines have the capacity to assemble over 150 million components annually.
Zaragoza, 22 September 2021
Teltronic, a company with more than 45 years of experience in the design and development of radio communications solutions, has created a new business area dedicated to the assembly and manufacture of electronic equipments, Teltronic EMS (Electronic Manufacturing Services) with which the company makes the leap into the electronic subcontracting sector.
"We have been designing, manufacturing and assembling radio equipment for more than four decades, both our own products and for other companies in the scope of critical communications; Teltronic EMS is based on this wide expertise working with electronic components, and is aimed to provide a new high added value service to our current customers as well as seek new business opportunities in other sectors", explains the Operations Director of Teltronic, José Luis Val.
Teltronic EMS has 4,000 square meters dedicated to the manufacture and assembly of electronic equipment, and the production area has more than 100 people with different professional profiles that make it possible for the company to offer integral solutions, from the design and conceptualization of prototypes to the manufacturing and final verification process.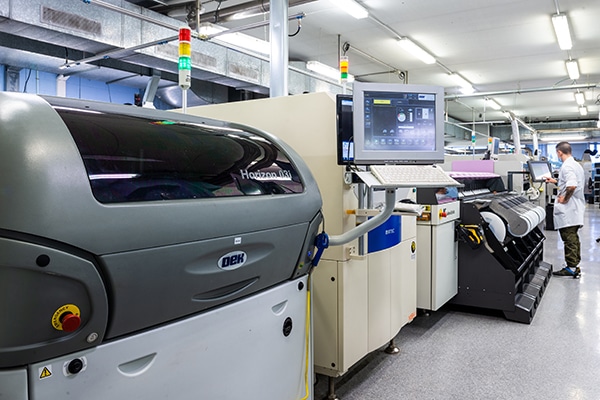 Thus, thanks to its Production Engineering team, the company offers services that include industrial design, circuit design and software development for test. In addition, Teltronic EMS has the most modern equipment and applies the most advanced manufacturing technologies, which gives it the capacity to assemble more than 150 million components annually on its SMD assembly lines, while offering the flexibility to respond to any volume of orders.
Another of the company's strengths comes from its long history as an exporter. With more than 500 projects deployed in over 60 countries, it has a supply chain management system focused on reducing costs and delivery times, and can handle orders arriving from anywhere in the world.
All this makes it possible for Teltronic EMS to respond and produce electronic devices for sectors as diverse as the automotive, household appliances, audio and lighting, renewable energy or health technology. "We come from the world of critical communications, where there is no possibility of failure and the highest demanding requirements are needed, so our components and products meet the highest standards of quality and their reliability is guaranteed," says Val.
To promote the services it offers, the company has created its own website at https://ems.teltronic.es/.