Both companies will work together in the development of video transmission solutions from drones for application in critical sectors and industrial environments
Successful trials have already been conducted over 4G private networks
Zaragoza, February 17, 2021.
Teltronic, a company specialized in the design, manufacture and deployment of professional radio systems, and ACG Drone, a drone operating company with more than 8 years of activity, will actively collaborate in the search for new solutions for video transmission from these unmanned aerial vehicles and their application in emergency response and industrial environments.
Both companies have already conducted several tests in which video transmission over Teltronic's private broadband networks (4G and 5G) has been successfully validated. In this way, the image captured from the drone is transmitted over 4G and the signal is received in real time in Teltronic's control center system, CeCoCo.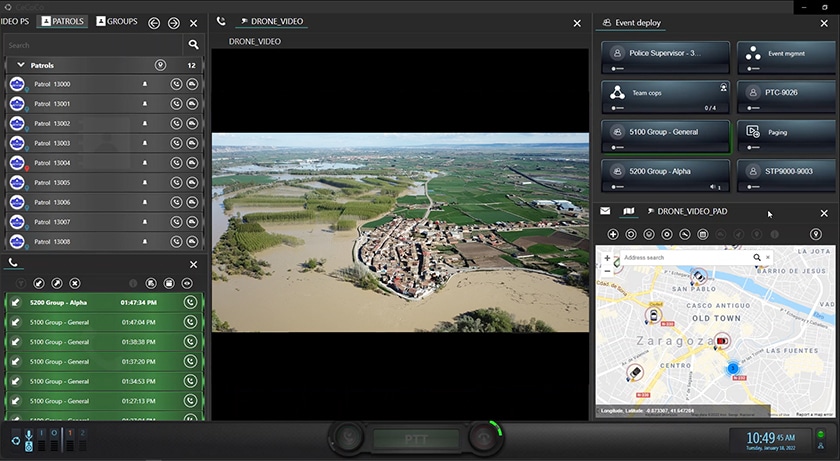 The drone video provides valuable contextual information, and having it immediately available at the control centre room can improve the decision-making process and the effective management of emergency situations such as those caused by floods or forest fires. In addition, this tool can be equally useful for police and surveillance operations, search and rescue operations, or security control at outdoor events. Likewise, video capture from the drone allows maintenance work to be carried out in industrial environments or large infrastructures such as power grids, roads, railway tunnels, wind farms, etc.
In general terms, the objective of both companies is to promote the use of broadband systems together with drone operations, creating an ecosystem of new possible applications and use cases in areas such as photogrammetry, topography or thermography, or even to study the possibility of controlling the drone itself through 5G.