• Both companies signed during InnoTrans a Memorandum of Understanding to enhance and consolidate the parties' abilities, resources and expertise
• Teltronic has remarkable experience deploying projects worldwide that have successfully proven the efficiency of this technology in the integration with signalling systems
Zaragoza, September, 25th 2018.
PT LEN Industri, Indonesian state-owned company that provides electronic infrastructure solution and has extensive expertise in Transportation systems, and Teltronic, a Spanish company specialized in the design, manufacturing, supply and maintenance of critical telecommunications systems, have signed a Memorandum of Understanding to explore a joint development for interface of LEN's ETCS and CBTC signalling system and Teltronic's TETRA and/or LTE telecommunication system.
By means of this collaboration, both parties intend to cooperate with each other not only in relation to the exploring of the feasibility of a potential joint technical development, but also a potential commercial cooperation scheme in the transport sector.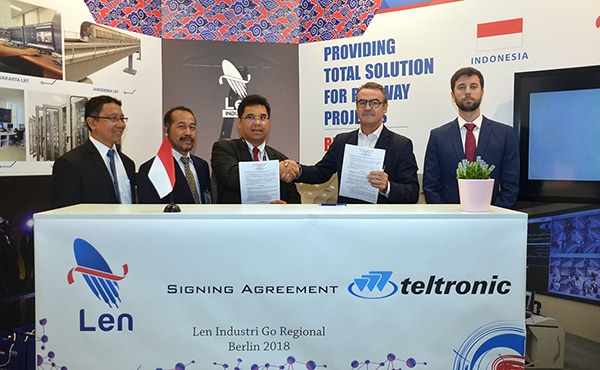 Teltronic accumulates a wide experience in the integration with rail signalling systems, with a number of global references that have proven the efficiency of TETRA technology for this kind of services.
This is possible through the Teltronic end-to-end solution that comprises of all the elements of the communications system, offering an integrated solution that includes equipment for backhaul system infrastructure, specialized EN50155/EN45545 on-board radios and user interfaces and Control Centre specifically designed for transport environment, CeCo-TRANS.
Apart from supporting the signalling data transfer, this end-to-end solution enables Teltronic to offer services such as interconnection with PA and intercom systems, applications to manage and control fleets and for operating aid, on board communication networks to manage events and alarms and even real time CCTV in trains and stations.
Mr. Linus Andor Mulana Sidjabat, as PT LEN Director of Operation, and Mr. Felipe Sanjuán, Teltronic Transport Business Development Director, signed the agreement at Innotrans.
Felipe Sanjuán, Transport Business Development Director, says: "We have the expertise of developing rail signalling projects with TETRA, not only with tests and essays but with actual references that are currently in operation and that demonstrate that we are a valid partner regarding signalling applications. This agreement boosts our strengths and reinforce us with a company whose reputation is a guaranty, and that improve our presence in a paramount market for us. In addition, this agreement allows us to explore new applications even in high speed trains".