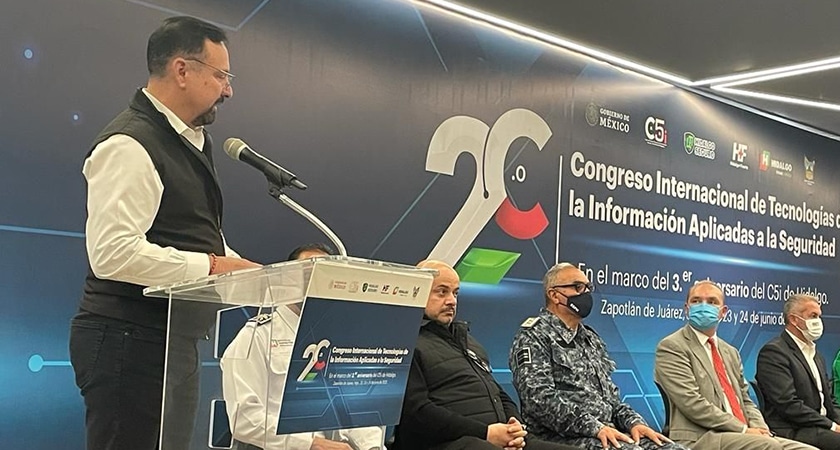 The Secretary of Public Security of the State of Hidalgo, Mauricio del Mar Saavedra, participated in the International Congress on Information Technologies Applied to Public Security.
The experts gathered highlighted the need for the authorities to invest in technology.
The International Congress on Information Technologies Applied to Public Safety was attended by representatives from 23 Mexican states, private companies and specialists in the field who, for three days, debated in the facilities of the Hidalgo Centre for Command, Control, Computing, Communications and Citizen Contact (C5).
"Just a few years ago, in the State of Hidalgo we had 64 cameras for surveillance throughout the state, that was shameful, there was no technology applied to security," said the state Public Safety Secretary, Mauricio del Mar Saavedra, during the opening ceremony of the meeting, who said that currently that reality has changed to make the state number four in the installation of cameras per 100,000 inhabitants, behind Mexico City, State of Mexico and Jalisco.
According to the official, investment has also been made in a stealth plane, helicopters, patrols, certifications such as that of the National Council for Certification and Standardisation with the aim of continuing to grow. He also pointed out that if "we do not invest in technology, there is no way to be successful, even if we invest in other security-related issues; nothing is possible without technology".
In this sense, David Ludeña, mission critical expert at Teltronic, commented that "public investment in technology to fight crime maximises the function of a police officer, which leads to building a more efficient police force". Otherwise, he said, you have a large number of police elements, without technology, which is not efficient. "A well-equipped police force with technology increases its efficiency by up to four times," he said.
Crime does invest
Through different presentations and messages, experts agreed that the regulatory framework needs to be updated, since in Mexico there is organised crime that invests large sums of money in technology and counter-intelligence.
In this regard, Ludeña affirms that in the face of a new wave of criminals and crimes, there must be a new wave of defences through new cybersecurity parameters. "Strategies must be created to avoid system vulnerability. It is possible through technology to detect attacks in advance, to block them with artificial intelligence algorithms," he said.
Finally, he assured that the State of Hidalgo has made a decisive investment in the most modern infrastructure in Mexico and in its state-of-the-art C5. He said that radio communication is an area of opportunity for the state to be at the forefront of broadband systems and open standard technology.