Zaragoza, May 31st 2023
Teltronic's project "Delhi-Ghaziabad-Meerut corridor, communication over 3GPP MCX technology ready for FRMCS"  has received the award for the Best use of critical communications in transport at the ICCAs, the most prestigious prizes in the field of critical communications at a global level, which were presented during the Critical Communications World, held in Helsinki.
"We are very proud because this recognition highlights the totally innovative and disruptive nature of the project, as the integration of MCX solutions in the transport sector is a pioneering milestone at a global level and demonstrates the validity and level of development of our broadband solutions", explains Teltronic's Product Marketing Manager, Marta Fontecha, who was in charge of collecting the award.
Teltronic was selected to be responsible for the integration of the on-board equipment, radio dispatchers, smartphones and the control centre solution to provide the MCX (Mission Critical Services) mission critical services to the Delhi to Meerut Regional Rapid Transit System, a line currently under construction that will link these two important Indian cities through an 82-kilometre rapid rail corridor.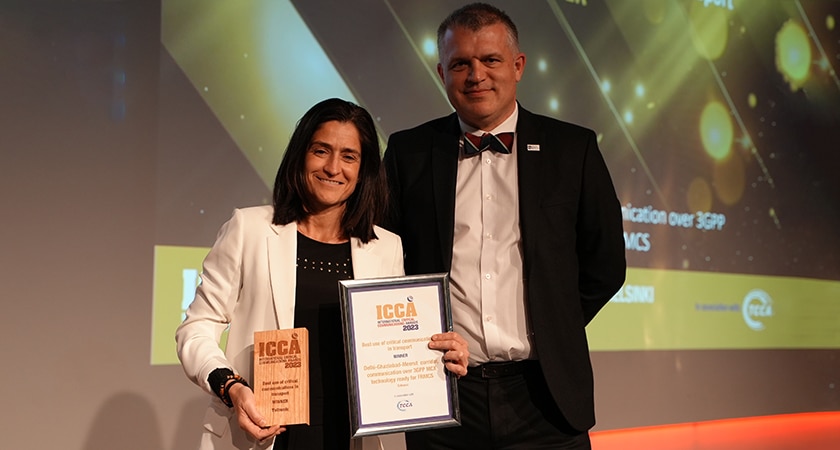 The work highlights the validity of Teltronic's MCX solutions for voice and data transmission as defined by the 3GPP standard, deploying technology that will enable the line operator to easily transition to FRMCS (Future Rail Mobile Communication System).
Teltronic's deployment consists firstly of the Control Centre solution, CeCoCo, which is the 3GPP-based MCX communications management platform, includes a Geographic Information System (GIS), and is integrated with other sussystems such as the Train Management System, Public Address and intercom.
Teltronic also equips the trains with its latest generation on-board radio, the RTP-800, which connects to the Alstom NetBox mobile router that manages train-to-ground connectivity for all services. Finally, the company supplies more than 600 LTE terminals, both desktops and ruggedised laptops.
CeCoCo, Highly Commended
In addition, our CeCoCo solution got a Highly Commended in the Control room innovation category, for the integration of MCX services through a software-based communications gateway that integrates voice and data communications according to the criteria defined by 3GPP for broadband networks.