• Teltronic, together with the integrator of technology security solutions Jomtel Telecomunicaciones, deploys the TETRA digital radio system that will improve the efficiency and security of the communications of the different public safety agencies that work in the Mexican city
• The deployment includes infrastructure, radio terminals and control centre solution
Zaragoza, 22nd January 2021.
The integrator of technology security solutions Jomtel Telecomunicaciones and Teltronic, a company with more than 45 years of experience in the critical communications sector, have been responsible for the deployment of the new Ciudad Juárez TETRA radio network, which will provide voice and data services to the various public safety agencies in the metropolitan area of the Mexican city, improving the efficiency and security of their communications.
The Mexican integrator Jomtel has been responsible for implementing the system, and Teltronic has supplied the products that the company designs, develops and produces at its headquarters in Zaragoza (Spain). Teltronic's NEBULA infrastructure, which has already proven its efficiency in hundreds of deployments worldwide, has been deployed including a Switching Control Node (SCN) and the fixed base stations required to provide coverage for the entire metropolitan area.
Among the advantages provided by NEBULA and TETRA technology, there is greater integrity and security of communications as it incorporates the highest levels of encryption. Likewise, as a totally open standard, it allows interoperability between the equipment of the different TETRA manufacturers, and facilitates its integration with other radio technologies, such as the TETRAPOL network already existing in the city. The solution offers all the mission-critical functionalities required in a police operation, and includes a recorder.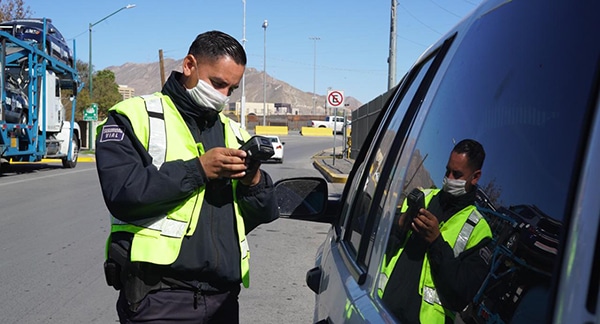 The integrated solution deployed by Jomtel and Teltronic also includes the radio terminals used by the police forces, and Teltronic's new generation control centre solution, CeCoCo NG, for call attendance, radio communications dispatching, incident management and emergency coordination.
Among other capabilities, CeCoCo allows to know in real time the position of all police units thanks to the GPS of the radios (including portables), and thus, can improve decision making and response times when an emergency occurs.
Located to the north, in the border with the United States, with more than 2.5 million inhabitants in the metropolitan area, Ciudad Juárez is one of the largest cities in the country. Its strategic location means that it has a great deal of industrial activity, but at the same time it is one of the Mexican cities with the highest levels of insecurity and crime.
The deployment of the TETRA network, together with other actions carried out in the city, forms part of the important effort being made by public administrations to tackle the problem, providing their law enforcement agencies with the most modern tools to combat crime effectively.