Teltronic organises a technical conference that gathers Spanish regional authorities responsible for the management of critical communications in order to analyse the current regulatory and technological framework.
The experts highlight the value of 4G and 5G solutions for the development of new functionalities and to improve the efficiency and security of users.
Zaragoza, June, 26th 2023,
Teltronic organised the Tech-Day Broadband and Mobility for Security and Emergency Services that, aimed to review the current regulatory and technological framework for critical communications and private networks, brought together various Spanish regional authorities responsible for the management of these services in their respective territories. The event included the participation of prominent speakers, as well as practical demonstrations that showed the latest broadband applications in critical environments.
Among the conclusions, participants underlined the significant opportunity offered by the allocation of band 68 for use by public protection systems and relief operations. "It offers a unique opportunity for the modernisation and digitisation of public safety and emergency response agencies, once the equipment is already available in these frequencies," said Teltronic CEO, Juan Ferro, who highlighted the company's commitment a few years ago to develop a complete solution for this band.
"Technological advances take longer to reach the public safety and emergency sector, but today we can say that broadband is a reality, expanding the possibilities that communications networks can offer to mission critical users, and allowing the integration of a large number of applications that enable great improvements in the operation of these agencies", explained Teltronic's Product Manager Guillermo Ramos.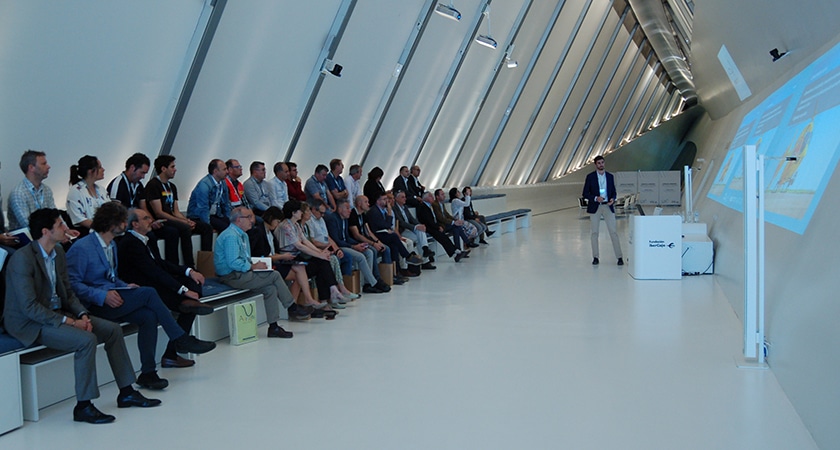 In his speech, Ramos reviewed new use cases, such as sending real-time video from drones, Body Worn Cameras, the introduction of Smart apps for access to corporate applications, vehicle telemetry… innovative solutions that pave the way towards Smart cities, and that inevitably require not only terminals and broadband network infrastructure, but also that the control centre becomes a multimedia platform to support all these new services.
Along these lines, Ramos also listed the benefits offered by private networks: "It is not just about the advantages they offer in terms of availability and Quality of Service; they also increase management and monitoring possibilities, allow multi-agency use, facilitate integration with other systems and guarantee transmission and coverage rates thanks to RF studies and optimisations in the field".
In this sense, the attendees were able to see in first person the capabilities of a private network, thanks to a demo in which a drone flew over the venue, and the image was transmitted in real time to Teltronic's control centre solution, CeCoCo, and projected on the giant screens as if it were a real control room.
THE CASE OF ARAGON
The head of the Radiocommunications and Telecommunications Infrastructures Area of AST (Aragonesa de Servicios Telemáticos), Héctor Berná, took part at the event and shared his experience in the deployment of the Unified Emergency Communications Network of Aragón (Aragon is one of the 17 regions of Spain)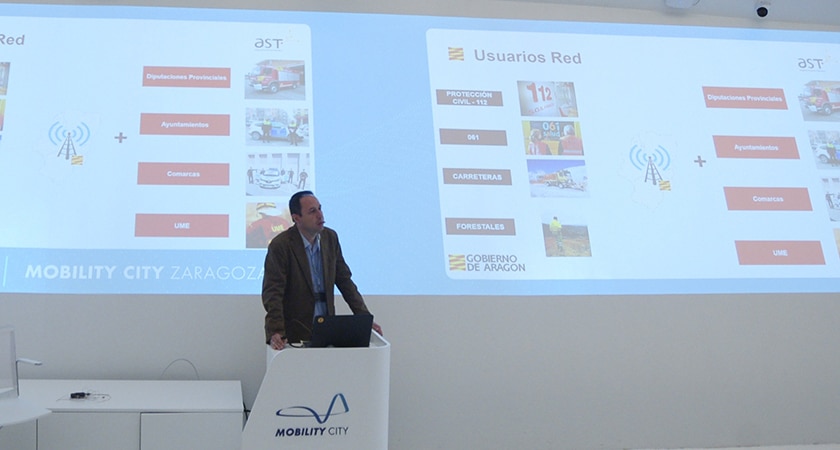 In his speech, Berna explained how various technologies were analysed during the preliminary study phase, and how TETRA was the chosen due to its greater capacity and functionalities, as well as its ability to interconnect with other networks. The Aragon network, which came into operation this year, incorporates a series of new features that make it the most advanced TETRA network in Spain, such as the incorporation of latest generation base stations, with multi-carrier capabilities, which offer great versatility as well as easier installation and lower consumption.
Another aspect in which the Aragon network is a pioneer is the integration of MCX services (Mission Critical Services over broadband), which makes it possible for a smartphone under a cellular network to talk securely and without interruption with a TETRA terminal.
Tactical cells also played a leading role. Miguel Ángel Nasarre, from AST, and Daniel Valbuena, from Teltronic, were in charge of explaining how the communication vehicles work and their great value in emergency situations, either by creating new coverage areas or by increasing the network traffic capacity. In addition, some of these vehicles have incorporated LTE technology enabling services such as video transmission.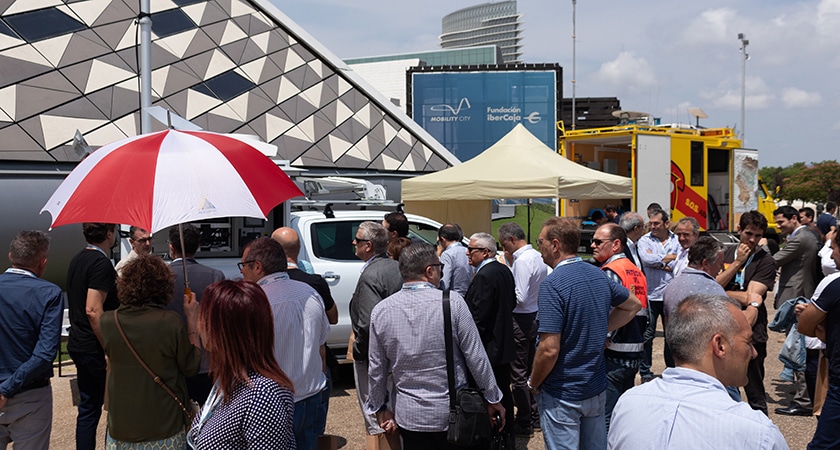 In fact, to carry out the demo, the broadband capabilities of one of these tactical vehicles were used, which were placed outside the event and could be visited later by all attendees.
SPECTRUM SITUATION
Juan Cañas, an expert with years of experience in the Spanish Government's National Frequency Allocation Table (CNAF), closed the conference programme. He began his speech by showing the usefulness of the EFIS (Frequency Information System), a tool designed for the harmonised availability of information on spectrum use in Europe.
Cañas explained how Band 68 has been selected for Public Protection and Relief Operations under the same conditions as in Spain (5+5 MHz 698-703/753-758 MHz) in countries such as France, Italy, Germany, Estonia, Cyprus, Austria and Switzerland, while other countries such as Greece, Sweden, Denmark and Belgium have not yet made this assignment.
At the end of the event, which took place in the innovative Mobility City in Zaragoza, the attendees visited Teltronic's headquarters to see its facilities and the capabilities it offers as a manufacturer and provider of critical communications solutions.