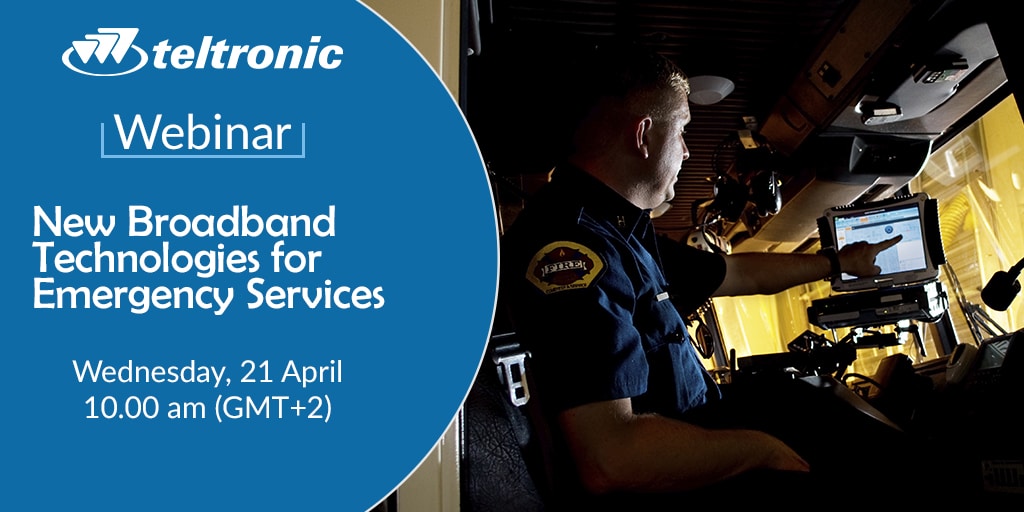 Communications are critical for organizations whose mission is to provide Security and Emergency services, such as Police and State Security Forces, Health Emergencies, Firefighters, Civil Protection volunteer groups, etc. and the systems that support them must be dimensioned according to demanding criteria, guaranteeing availability, security, and adequate Quality of Service.
Join our webinar and discover how the era of Digital Transformation and new technologies and broadband solutions can contribute to a more efficient and secure operation in the Public Safety and Emergency Management sector. The event will be held on Wednesday, 21st April, at 10.00 (GMT+2)
We will address relevant topics such as:
User needs. Use cases from the Public Safety and Emergency Sector.
Standardisation of technologies
Key issues in the deployment of critical broadband services.
Broadband products and solutions portfolio
Video as a key broadband application
Who is the target audience?
CTOs, engineers and architects from:
Public safety agencies and law enforcement
112/911 emergency services
System integrators
Consulting companies
[vc_row][vc_column width="1/3″][gap][/vc_column][vc_column width="1/3″][gap][vc_raw_html]JTNDc2NyaXB0JTIwYXN5bmMlMjBpZCUzRCUyMmRlbWlvLWpzJTIyJTIwdHlwZSUzRCUyMnRleHQlMkZqYXZhc2NyaXB0JTIyJTIwc3JjJTNEJTIyaHR0cHMlM0ElMkYlMkZjZG4uZGVtaW8uY29tJTJGZGlzdCUyRmVtYmVkLmJ1bmRsZS5qcyUyMiUzRSUzQyUyRnNjcmlwdCUzRSUyMCUzQ3NwYW4lMjBjbGFzcyUzRCUyMmRlbWlvLWVtYmVkLXJlZ2lzdHJhdGlvbiUyMiUyMGRhdGEtaGFzaCUzRCUyMkVaVTd2QzNyWUN0cXJCR0olMjIlMjBkYXRhLWFwaSUzRCUyMmFwaSUyRnYxJTIyJTIwZGF0YS1iYXNlLXVyaSUzRCUyMmh0dHBzJTNBJTJGJTJGbXkuZGVtaW8uY29tJTJGJTIyJTIwZGF0YS1mb3JtLXdpZHRoJTNEJTIyMTAwJTI1JTIyJTIwZGF0YS1jb2xvciUzRCUyMiUyMzc3YjllOCUyMiUyMGRhdGEtdGV4dCUzRCUyMlJFR0lTVEVSJTIyJTIwJTNFJTNDJTJGc3BhbiUzRSUyMA==[/vc_raw_html][/vc_column][vc_column width="1/3″][gap][/vc_column][/vc_row]