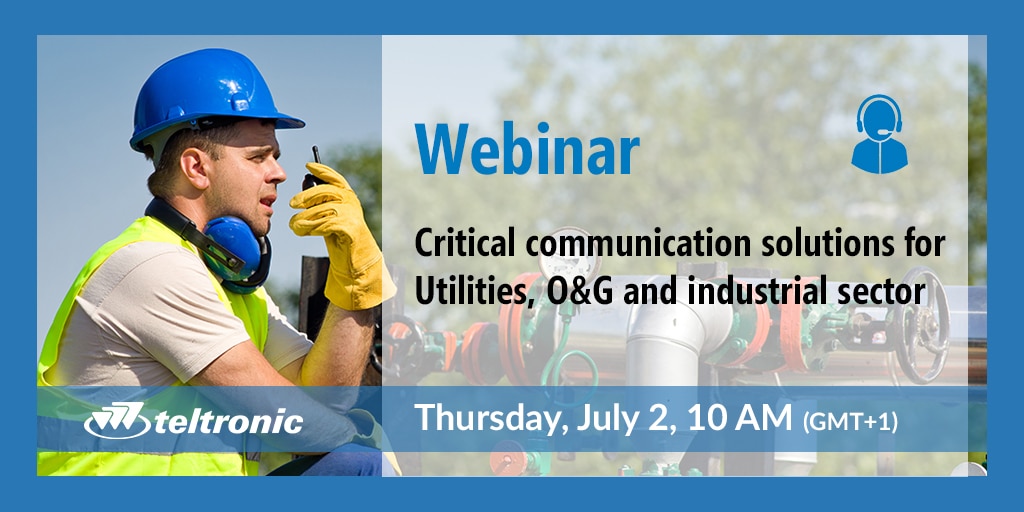 Join Teltronic for a webinar focused on helping utilities, oil&gas and industries to overcome the telecom's challenges.  The webinar will take place next Thursday, 2 July, at 10am (GMT+1)
The communications systems must be able to provide a continuous and reliable service to ensure that energy systems be recovered as soon as possible in case of failure or emergency, since the services they provide are vital to the population.
Teltronic's TETRA solution provides mission-critical communication features, as well as lone worker/man down functionality and data transmission over radio for SCADA-based telemetry applications. Besides, Teltronic´s Mission critical LTE solution can support any broadband application, such as video surveillance and IOT
We will deal with relevant issues such as:
Communication challenges in the Utilities and O&G sector.
Benefits of Teltronic´s TETRA+LTE technology.
Integration with SCADA and other industrial applications.
Future trends in critical communications.
Teltronic success stories
Who is it aimed at?
CTO, engineers and architects of :
Utility and water companies
Oil & gas
Industrial sector
System Integrators
Industrial consultancy companies