• The company is responsible for the TETRA system of the first Sydney Metro line, increasing its references in a city where it is also deploying another network for the tramway
• The use of driverless trains means that the network has to be integrated with the passenger warning system and the emergency alarm system to communicate with the control center
Zaragoza, November 18th, 2019.
Teltronic, together with MCS Digital, the Australian integrator of mission-critical radiocommunication systems, has been responsible for the deployment of the TETRA communications network that provides voice and data services to the Sydney North West Line Metro, the first metro line of the Australian city. This transport infrastructure uses, for the first time in the country, driverless trains.
The system is comprised of the TETRA NEBULA infrastructure, with Site Base Stations (SBS) to cover the entire line, mobile and portable terminals, and 66 onboard RTP-603 radios that comply with the strict railway regulations (EN50155 / EN45545). In addition, Teltronic has deployed its CeCoTRANS control center solution specially designed for the transportation environment, with seven operator desks from which communications are managed.
The fact of using driverless trains makes communications especially relevant, so the TETRA network is integrated with both the passenger warning system and the emergency alarm system to contact the control center, allowing the sending of messages to the train information panels and the transmission of prerecorded messages through the public address.
Likewise, the communications network is integrated with the Automatic Train Supervision (ATS) and the Train Control and Management System (TCMS), systems that allow the correct operation of the vehicles.
In this way, the TETRA system supports voice communications and train-to-ground critical data transmission, sending in real-time the alarms produced on the train in order that the control center is always aware of any possible event, allowing a quicker reaction and the optimization of the operation.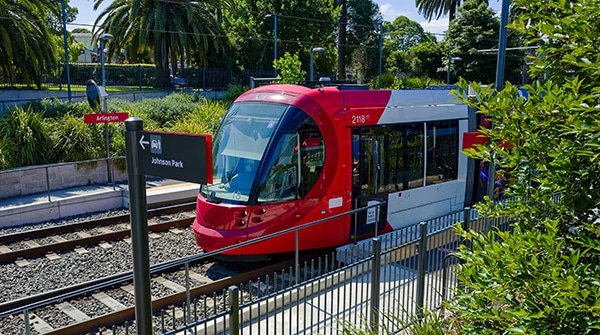 "The fact of being able to provide technology for the first driverless passenger train in Australia is a great achievement for Teltronic, especially in a project that has needed such an important integration effort. The deployment has been a success and the rest of the country is already observing the example of what TETRA technology is capable of, and we hope that this reference generates new business opportunities", explained Felipe Sanjuán, Director of Transportation Business Development,.
ALSO THE TRAMWAY
Teltronic is also responsible for the TETRA communications system of the Central Business District and South East Rail, a tram line that extends over 12 kilometers and has 19 stations.
The deployment consists of the TETRA NEBULA infrastructure, with a central node and Mast-mounted Base Stations (MBS) to provide coverage for the entire route, and 60 RTP-300 on-board units. The installation of the equipment has been carried out with a specific configuration, 1 onboard radio and 2 driver consoles, and in addition, the system has been integrated with the Intelligent Transportation Systems (ITS) and with public address and intercom systems.