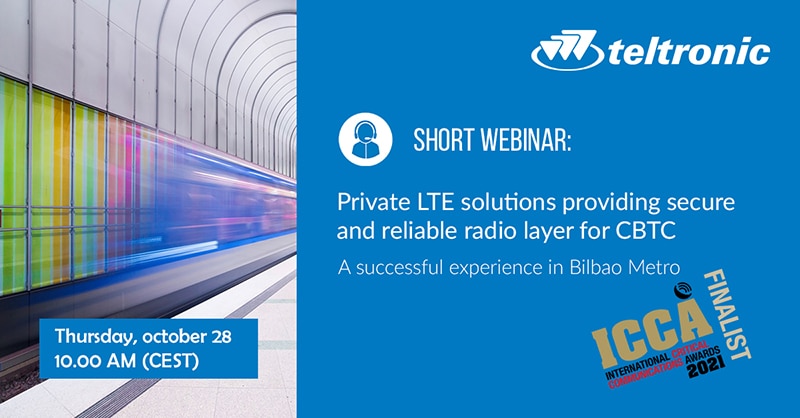 The deployment of a private LTE network and its integration with CBTC signalling application on Line 3 of the Bilbao Metro has been shortlisted as finalist in the Transport category of the International Critical Communications Awards, the most prestigious prize in the field of critical communications worldwide.
If you want to know more about this interesting project, we encourage you to join our short webinar "Private LTE solutions providing secure and reliable radio layer for CBTC", which in just 20 minutes will explain our experience in Metro Bilbao, that results in the successful integration of Teltronic's private LTE with CAF Signalling's CBTC (Communications-Based Train Control) signalling solution up to highest levels of train automation.
The session will analyse how LTE is a more efficient alternative than the currently used Wi-Fi, providing an end-to-end solution that meets the data transmission requirements for rail signalling. It will take place next Thursday, October 28th, at 10.00 am (CEST)
Join this webinar to learn how broadband systems provide train-ground communications with the safety, availability and quality of service required by signalling solutions.
Who is it aimed at?
CTO, Engineers and System architects of:
Railway operators
Metro and LRT lines
Automated People Mover (APM)
Public Transport Agencies
System integrators
Railway consultancy companies