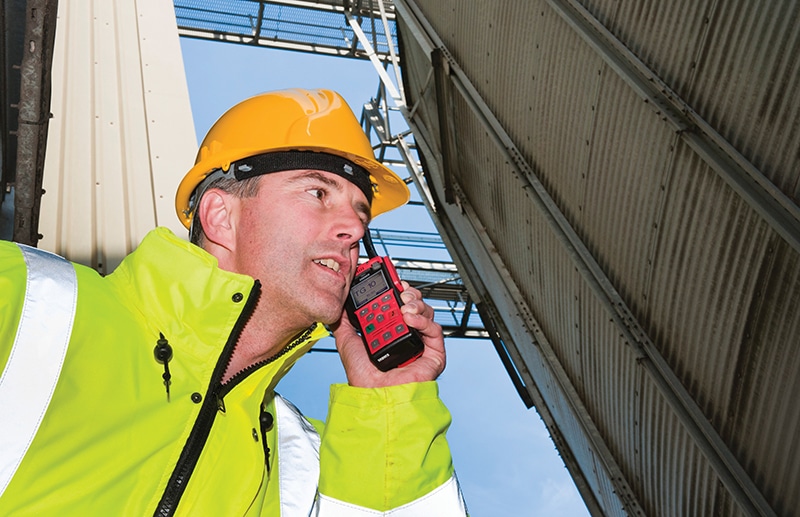 As we have already commented in previous posts, the robustness and durability of the terminals is a key factor in critical communications deployments. Additionally, there are scenarios in which the conditions surrounding radio equipment are even more extreme and demanding: explosive atmospheres.
An explosive atmosphere is defined as a mixture of air and flammable substances in the form of gas, vapours, mist or dust in which, after ignition has occurred, combustion spreads to the entire unburned mixture. That is, the one in which a flame, a spark or even an elevated temperature can cause an explosion.
Two types of ATEX atmospheres are distinguished: those of gas, in which there is a mixture of air and a flammable substance in a gas state (methane, butane, propane, acetylene …) or vapours (ethyl alcohol, carbon sulphide, acetone … ); and those of dust, in which the air is mixed with dust or fibers (wood, cereals, coal…)
Thus, there are a variety of spaces in which workers have to deal with this type of atmosphere: gas pipelines, cereal silos, mines, refineries, some industries… scenarios in which to avoid risks all equipment and systems must be adapted, and comply with strict safety standards that, of course, communication equipment must also comply.
In order to guarantee communications in these environments, it is necessary to use ATEX terminals, which have been specially designed and tested for it, in accordance with the Directive 94/9 / EC. If a terminal is EX marked, it means that that device meets the necessary security requirements.
Thus, these devices have to withstand extreme temperature ranges, require high levels of IP and be resistant to dust, water, oil or chemicals. Besides, they must also demonstrate their reliability against thermal shocks (large and sudden changes in temperature).
Regarding functionalities and audio quality, there is no difference with conventional terminals. But there are differences in form, since they are encapsulated to prevent any liquid, dust or gas from penetrating in the internal circuits; and their controls, buttons and dials are designed to be employed by operators using gloves and elements that can reduce their visibility, such as goggles or even masks.
One of the key points of these terminals are the batteries, since they are one of the components of greater risk. To avoid any danger, they are designed in order that their assembly and disassembly is as safe as possible. In the same way, all accessories have to comply with all standards in order to not compromise the safety of operations.
DIFFERENCES WITH IECEX
There is a second accreditation for equipment to be used in hazardous areas, IECEx. The difference between the two is that while ATEX is valid in the European Union, IECEx has a more global scope.
However, the main difference is that ATEX is defined by law while IECEx by a standard, so that it is a third party who is responsible for gathering all aspects of design and manufacturing evaluation for the issuance of a public certificate. However, in technical terms, there are no major differences between them.